Daddy's Chicken Shack Attracts Re/Max Founder as Investor and Franchisee
Dave Liniger's investment portfolio is as varied as they come. "I've owned NASCAR race tracks, NASCAR race teams, we've bred over 3,000 Arabian horses … we've been in dozens of ventures," said Liniger, the co-founder of global real estate franchise Re/Max who also counts Harley-Davidson dealerships and a golf course among his businesses.
Until last year, however, Liniger stayed out of the restaurant business, but a visit to Daddy's Chicken Shack in Pasadena, California, changed that. "We were skeptical about a QSR or even a fast-casual concept," said Liniger. "But we flew out and we sort of fell in love with them."
"Them" were chef Pace Webb and her husband, Chris Georgalas, who opened Daddy's in 2018 and attracted Liniger first as an investor and now as a regional developer. Liniger's Area 15 Ventures purchased a 51 percent interest in the business and he established Area 15 Franchising to develop 20 Daddy's Chicken Shack restaurants, split between Denver's southern metro and Scottsdale, Arizona.
With Area 15 Ventures, which Liniger described as a private equity group "basically funded by me and my wife," Re/Max co-founder Gail Liniger, he considered roughly 200 emerging franchisors for investment and "90 percent right off the bat we looked at and said no." Webb, however, had already built a successful catering company, Taste of Pace, and by 2020 Daddy's was doing $1 million-plus in sales out of a 700-square-foot restaurant with no indoor dining.
"It was basically delivery and pickup only," said Liniger. "It was a smashing hit."
The menu features fried chicken sandwiches, tenders and fries, plus vegan options and breakfast items such as chicken and waffles and rosemary biscuit sliders with maple butter. The products are "fabulous," said Liniger, and the concept has "unique advantages" with its small footprint and low staffing needs, along with a technology infrastructure built from the beginning to maximize off-premises sales.
"And she's figured out how to cut waste to the bare minimum," he continued of Webb's focus on keeping costs down. The crowded nature of the chicken category, meanwhile, didn't faze him.
"I don't care how many competitors are out there," said Liniger, who recalled the early days of Re/Max in 1973 and said by 1978 there were close to 200 real estate franchisors. "And all said they were disrupters, but really there wasn't much differentiation."
"The truth is, there's not enough room for all the brands," he continued, which is why he's also bringing his franchise expertise to Daddy's Chicken Shack to help the brand succeed on what he called "the four battle fronts" for an emerging franchisor: developing a unique product or service; growing market share; taking advantage of group purchasing; and executing on training, operations and technology.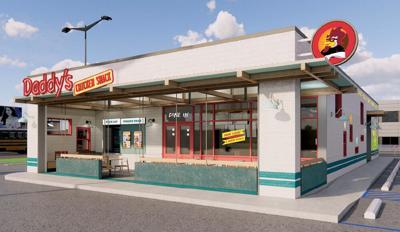 A flagship restaurant under construction in Houston will also serve as a training location for franchisees. It and future franchise units will have dine-in seating, kiosk ordering, a walk-up pickup window and a drive-thru lane for digital order pickup.
The cost to open a Daddy's Chicken Shack restaurant ranges from $664,500 to $893,500; the royalty fee is 6 percent.