Daddy's Chicken Shack Arrives as Category Disruptor
The chain initiated a franchise strategy, with a menu that leverages Southeast Asian, American South, and Japanese cuisine.
The restaurant's Big Daddy sandwich features buttermilk fried chicken, napa slaw, and sriracha mayo on brioche buns.
Married couple Pace Webb and Chris Georgalas operate Daddy's Chicken Shack in a tight, 700-square-foot space found on Craiglist in Pasadena, California.
There's little to no foot traffic, no bathrooms, no indoor seating, and it's positioned in front of a red curb, which means no parking.
Those factors didn't prevent the restaurant from seeing a 200 percent jump in sales during the pandemic. It also didn't deter a host of investors from inquiring about growth opportunities, leading Webb and Georgalas to investigate whether to expand corporately or through franchising.
The research led to Dr. Ben Litalien, founder of FranchiseWell, an agency that consults with the likes of UPS and IKEA. Then that partnership blossomed into an investment from Dave Liniger, the co-founder of global real estate franchise RE/MAX, who chose Daddy's out of 200 potential candidates.
Now, the chicken brand is in the midst of building a state-of-the-art flagship restaurant and franchise training facility in Houston with tech innovations, a creative interior, and of course, high traffic, bathrooms, seating, and parking.
"[Liniger] is the king of franchising, and he's made all the mistakes," Webb says. "And he's like, 'We're going to partner together, and I'm going to show you what I've done that has taken me 50 years, and it won't take you 50 years. That's the value that I bring to the table in addition to the capital.'"
Daddy's selection of chicken sandwiches is best described as a confluence of Southeast Asian, American South, and Japanese culture, partly an ode to Georgalas, who is half-Japanese. For instance, the Big Daddy sandwich comprises napa slaw and sriracha mayo, while the Spicy Daddy features sambal, cilantro, and ginger mayo. For dessert, the restaurant offers salted miso chocolate chip cookies, baked fresh each day.
READ MORE: 10 Emerging Chicken Chains Ready for Take-Off
The rise of Daddy's began in 2013 with Webb's Los Angeles-based fine-dining catering business, Taste of Pace. For one event, she was asked to make sliders and tacos, which wasn't a part of her menu. But Webb made it work, and developed a fried chicken sandwich recipe with sriracha mayo, Thai-style slaw, buttermilk fried chicken, and a brioche bun.
The food was a hit and drew the praises of actress and singer Mandy Moore, who was in attendance. Webb began to brainstorm, wondering if this could turn it something bigger.
"The next day I called my dad," she recalls. "It's so fun to call your parents to tell them about these crazy L.A. stories. And I said, 'Dad, it could be a retirement plan. You can just hang out in the Venice pier wearing a Hawaiian shirt, flirting with the ladies, frying the chicken.' and I said, 'We can call it Daddy's,' and he has this big belly laugh. And I said, 'Oh, Daddy's Chicken Shack. That has a good ring to it.'"
The idea remained dormant, although the sandwich was continually perfected. Then Webb met Georgalas in 2015, who took a bite and declared, "This is your Shake Shack. This is how you're going to reach people with your delicious food and your message."
At the start of 2018, Webb and Georgalas opened Daddy's at Smorgasburg food market. The weekly event attracted roughly 4,000 customers when the restaurant joined, but saw upwards of 13,000 at some points. Hundreds of sandwiches were sold each day, along with positive feedback.
Later that year, around August, Georgalas found the 700-square-foot location in Pasadena. The couple signed the lease soon after and moved in about 18 days. Daddy's officially opened November 1, 2018, while Webb maintained her catering business and Georgalas kept his job in the finance sector. Also, Webb was carrying their first child.
"I had two babies at once," Webb says. "I had a restaurant, and a little [human] baby."
Given the location and less-than-stellar amenities, both knew relying on signage and the storefront wouldn't be enough to attract customers. But Georgalas, who has a background as a Wall Street trader for Deutsche Bank, remembered the e-commerce shift he saw with the acceleration of Amazon and the precipitous fall of Blockbuster.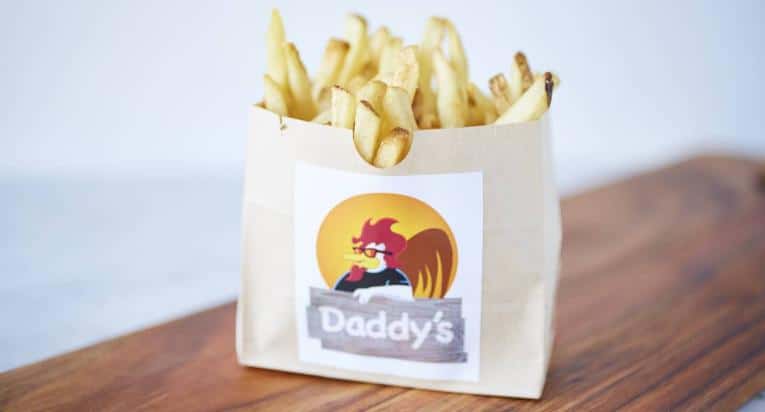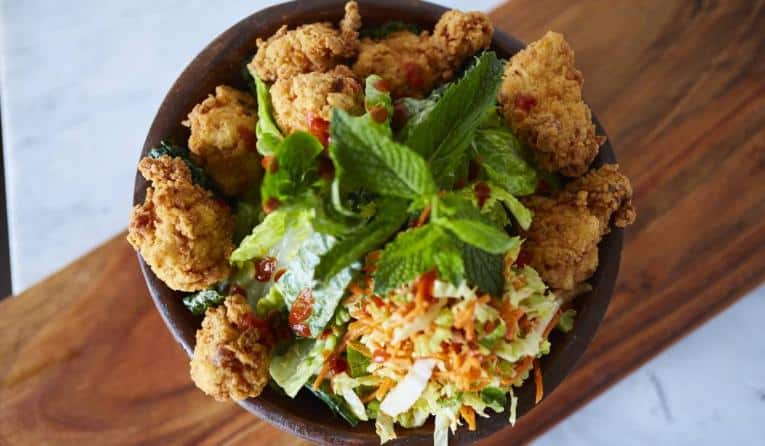 The brand will likely select Texas as a starting point and grow contiguously to ensure efficient and effective growth.
He and Webb knew the same movement was happening in the restaurant industry. So the two set out to create a tech stack, back when they didn't know the terminology for it. Daddy's became one of the early customers of Ordermark (now called Nextbite)—an online ordering solution that offers integration of third-party delivery providers—and played around with facial recognition kiosks and autonomous delivery. By the end of 2018, Daddy's was on 11 delivery apps and offered native online ordering.
Georgalas says he and Webb essentially "Frankenstein'd" what turned into a productive omnichannel system.
"Trying to stay slightly ahead of the tech, but not so far ahead of it that it wasn't something that our customers wanted," Georgalas says. "We really spent a lot of time reverse engineering what our customers really wanted from us and how they wanted to access our food. We're confident with our food, but we were like, how is anybody going to know about us, that we're in this place, and nobody's ever heard of us before?"
Those issues won't be a problem at the upcoming restaurant prototype in Houston, scheduled to open at the end of February. The store is standalone, although Webb doesn't expect that model to represent any more than 25 percent of future locations; most are likely to be inline or endcap restaurants. The flagship intends to show potential franchisees an example of the "biggest, baddest thing you could have" and then modify from there.
The standalone prototype is 2,400 square feet with 51 seats and will offer self-ordering kiosks and a drive-thru lane strictly for picking up mobile orders, similar to Chipotle's accelerating Chipotlane business.
The dining room will be minimized in favor of a larger kitchen that houses two make lines—one for in-store customers and another for takeout and delivery orders.
"The worst thing you want for an in-person customer is, 'Hold on, we're really bogged down with delivery orders,'" Webb says. "It's the biggest diss I think you can give in-person diners somewhere."
The store's interior was crafted by Webb's father, an artist and graphic designer, and Harrison, a global consultancy company that's assisted with designs of several restaurants, including Fogo de Chão and Maggiano's. The result is an authentic-looking shack that mismatches different elements of a house. Throughout the store, customers will see windows of random sizes and other odd placements, like a door hanging from the dining room ceiling.
While the American South is the front-facing aesthetic, Japanese minimalism is a design backbone, Webb says, with a store layout that facilitates easier wayfinding.   
"I always say it looks like somebody's house that they've lived in for 50 years, and they remodel every 10 years a different room," Webb says. "Some different elements to it."
The Daddy's owners have already hosted discovery days at their Pasadena location, which the two enjoy showcasing despite the small size. Webb views it as an opportunity to inform candidates on what's doable in 700 square feet and juxtapose those feats to what's even more possible with the additional resources of the larger, well-equipped prototype.
The restaurant will likely select Texas as a starting point and grow contiguously to ensure efficient and effective growth. The brand is in negotiations currently with prospective operators, and Georgalas and Webb anticipate the company will have more to share in the early part of 2022.
Webb says there's been an "impressive" amount of interest, and Georgalas attributes that to Daddy's laser focus on understanding how its branding, employees, and food make people feel.
"The way we look at things is, how is our interaction in any aspect of our business, whether we're talking to potential multi-unit operators or we're interacting with our staff, our staff interacting with customers as a whole, I always think about how is that interaction?" Georgalas says. "Do we make somebody feel better? Did we make somebody feel worse? And I think that's what we're really trying to build this business around."