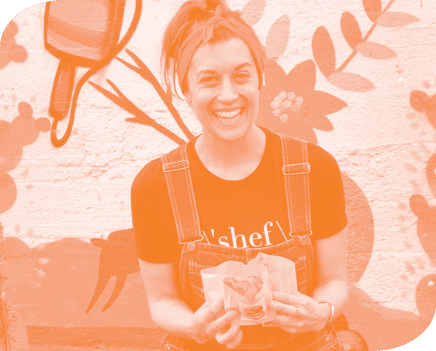 Pace Webb, CEO and Founder:
Hello! My name is Pace Webb and I am the CEO and Founder of Daddy's Chicken Shack!
I am a fourth-generation entertainer, coming from a long line of empowered women who love to delight and charm others. I grew up hearing stories of these women before me, all of who had an innate knack and passion for creating joyful and enthralling experiences with stylish abandon!
My start as an entertainer came when I was working three grueling jobs as a cook in Los Angeles, CA. Those who loved my recipes requested I cater their events and business grew. Organically, I opened my own catering company called Taste of Pace. Life was a constant series of forks in the road, but I tried my best to go with the flow, keep an open mind, and pursue what felt right.
One day, a celebrity event requested that we veer from our typical regional Italian menu and serve tacos and sliders, instead. That night, we styled countless, creative versions of sliders and tacos, one of which was a killer fried chicken sandwich that everyone went crazy for! That's when my wake-up call sounded loudly, "Girl, it's time to simplify!! Let's get into the fried chicken business!" My experience in fine dining was incredibly high-touch with so many custom requests and high demands that it was simply not sustainable. Not to mention, the comfort food still had a dynamic taste while harnessing the down-to-earth, approachable values that I identified with best.
Nevertheless, it took many years of friends and family asking for chicken sliders, toying with the idea of opening my own restaurant, and my analyst/entrepreneur husband always looking for ways to grow a business, that Daddy's Chicken Shack was eventually born. In fact, it was at a focus group with Travis Kalinack, founder of Uber, where we learned about his "cloud kitchens" (old buildings turned into to-go kitchens for food delivery services), and we saw what had only been a mere dream suddenly come to life in reality in the form of a hybrid cloud kitchen. Six months later (and while very pregnant with our first daughter right before the holidays), our first Daddy's Chicken Shack location in Pasadena, California opened shop.
Initially, in order to make things scalable, this first brick-and-mortar was a lunch-only, primarily to-go concept, with a heavy focus on delivery apps to start out. Very much like our very own "cloud kitchen." Several months after opening day, my husband quit his day job in the finance world to manage Daddy's full time. He's a force, and we make an awesome team. When something feels right, the clouds part and the light shines and it almost feels like a huge relief- duh! Because you've figured out your purpose.
Willie Lee Dymke Jefferies
Willie Lee Dymke Jefferies was my maternal great-grandmother. She was one of thirteen children and she boot-strapped herself out of poverty in the early 1900s to eventually go on and become a Latin and English teacher. She was a practical, yet spirited and strong-willed woman. This photograph very much embodies her strength. Her story is passed down in my family as one of a woman who believes in herself, works hard, and defies all odds. Due to my tremendous respect for her and my eagerness to continue to pass on her story, my husband and I chose to name our first daughter Asa Lee Georgalas after her and his own maternal great grandmother, Asako Tanaka. Her story proceeds in the next photograph.
My husband and I identify our great grandmothers as the face of the pillar of values that uphold Daddy's Chicken Shack. This brand is founded on family values, integrity, and the merit that they can have on future generations.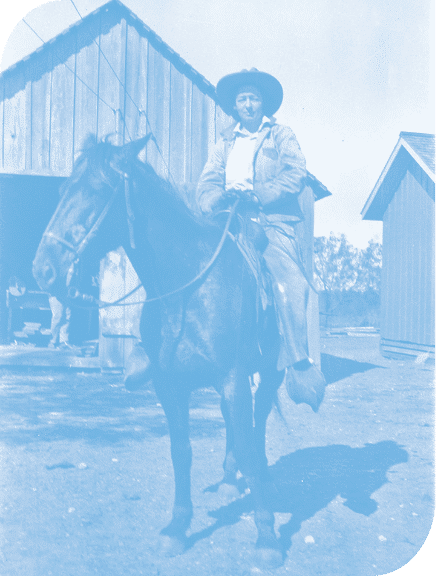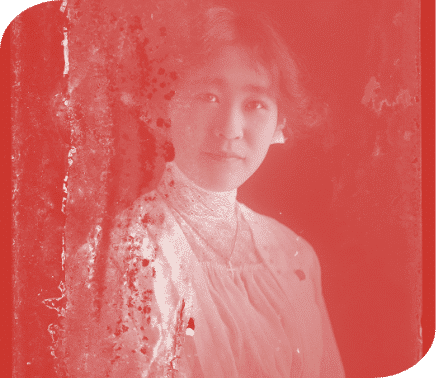 Hello! Chris Georgalas, here! I am the President and Founder of Daddy's Chicken Shack! Pictured here is Asako Tanaka, my maternal great grandmother, and an important figurehead where plenty of rich history in our family was derived. Pace and I named our daughter Asa Lee after her. I only met her once when I was five years old, but recently was told that she was known for being meticulous with her food-preparation and was extremely loved by her community. She had a generous heart.
Asako married her husband Chikashi and emigrated from Japan to the United States, first via Hawaii and then California in 1913. She gave birth to her daughter May who would later attend LA City College. Eventually, the entire family was placed in internment camps. It was in the "Gila River Internment Camp" in Arizona, that my grandmother May met her husband, Tsugio.
Tsugio was chosen by the US Government from others in the internment camp to be enlisted in the US Army to serve as a translator in the War. Many don't know this, but some of the most decorated war veterans were Japanese Americans who were placed in internment camps but fought in World War II.
Despite their challenges, May went on to be a nurse and Tsugio a chemist and entrepreneur. Their ability to overcome their hardships and persist is something unforgettable for my family history, and a story I will recount to my daughters and generations after them. Pace even says I get my entrepreneurial spirit from my grandfather Tsugio. I have so much respect for my great grandparents to move through their life experiences as immigrants with grace and perseverance.
Chris, President and Founder
In our early years, Pace and I lived in Downtown Los Angeles' Arts District, which was originally LA's industrial hub for agriculture. Daddy's Chicken Shack started out as just a single stall at the historic LA Produce Market nearby. The market continues to be a major hub for produce distribution across the region and has been celebrating the community of workers that have fueled the city's thrilling food culture for over 100 years. It's open six days a week Monday through Saturday and on Sunday, it becomes the infamous Smorgasburg! Smorgasburg is a weekly food festival with 60+ vendors and about 12,000 visitors. It was a wonderful place for us to nail down our recipe and food-prep systems for an eventually large-scale operation.
Because of our family's rich cultural history and passion for preserving the stories and lessons that come from it, my second cousin compiled a family history book with rare photos of the Japanese side of our family. One day, Pace and I were flipping through the book hoping to spark baby-name inspiration while expecting our first daughter. We read through the richly detailed stories and learned that my maternal great grandmother, Asako, married her husband Chikashi in a church just down the street from our downtown loft! Chikashi was a photographer and had a photo studio in the same area called Little Tokyo.
The stories kept unfolding as we read on. We got a hold of many of the old negatives and quickly realized that he had photographed the LA Produce Mart and the exact area where we would stand every Sunday many decades later. This picture represents the humble beginnings of my immigrant family, and Pace and I's little fried chicken shack.
Chris, President and Founder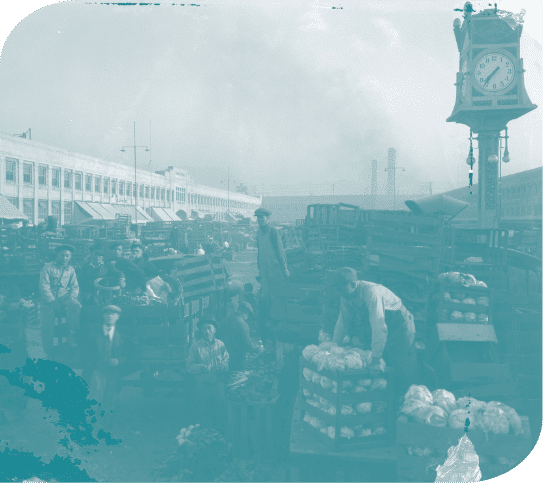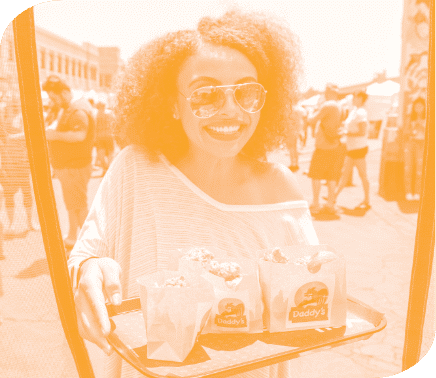 At Daddy's Chicken Shack, our mission is to serve high-quality, perfectly-executed food, and "warm hug" service to as many people as possible. Our goal is to make our customers feel at home and for our employees to feel inspired and supported. We strive to create a positive experience for anyone who comes in contact with Daddy's Chicken Shack. And while we're only human, we strive to make the greatest impact, a little too big, every single day. We are customer and hospitality-obsessed, and we are constantly looking for ways to meet you, the customer, wherever you are on a particular day. Are you in a rush picking up your kids from soccer practice and trying to get dinner on the table? Or are you trying to slow it down for a casual catch-up lunch with a friend? Either way, we got you! We are always learning and adapting to deliver an exceptional experience. Our vision is to bring all walks of life together, in unity, one life-altering fried-chicken sandwich at a time.
Chris, President and Founder
My superpower is redistributing resources. I always try to identify which resources are being underutilized, and how we can make better use of the resources we already have. I learned this from Robert Egger, founder of DC Central Kitchen in Washington DC. Egger saw a glaring problem with feeding the homeless: giving out prepared food to the homeless was only a band-aid to a greater problem. He realized that in order to attempt to solve the root of those experiencing homelessness, he needed to find a way to put them to work making the food. Egger worked tirelessly to find kitchens that were closed nights and weekends (ie: schools) to put homeless, previously incarcerated, aged-out foster care individuals to work making food with donated or "imperfect" ingredients. Egger identified under-utilized resources like space, people, and food; and combined them all together to make an incredible impact.
At the start, I had many people come to work for me who came from the 13-week culinary program at LA Kitchen, the Los Angeles version of the DC Central Kitchen described above. I'll never forget the day I met Sammy Lopez. He didn't have the experience, and he came from a rough background, but he had spirit, drive, and a completely infectious smile. Sammy quickly became our first employee. He was loyal through and through despite the usually transient nature of the industry. He excelled and was promoted quickly. He was smart, easy to train, and a fast learner. Sammy was coping with post-incarceration life changes and it was not always roses, but he had what it took to work in this industry. We cannot give up on our neighbors. Sammy earned his second chance and there was no greater joy than to see him win.
Unfortunately, we lost Sammy in May of 2020 and I was completely heartbroken. Despite our ups and downs, I have no regrets. I would hire Sammy over and over again.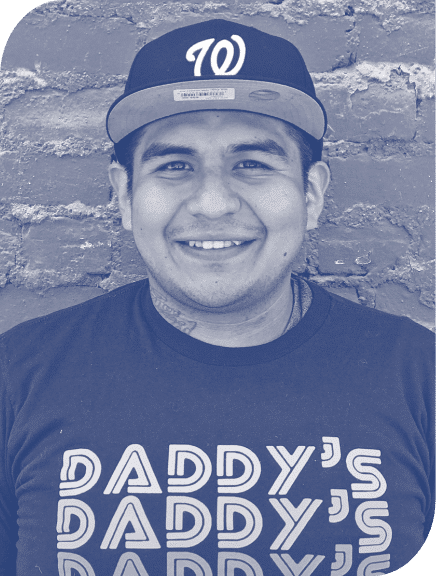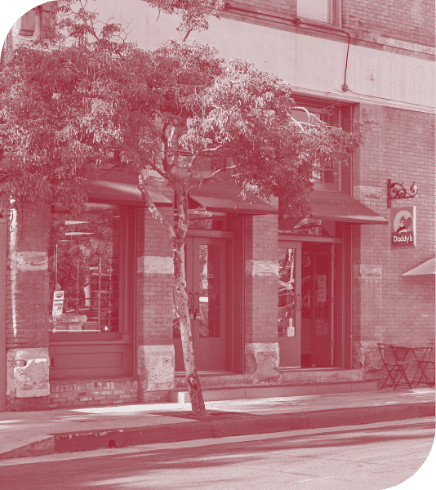 In January of 2018, about 6 months after we started at Smorgasburg, my husband, Chris, started looking for a brick and mortar space for Daddy's Chicken Shack. We thought I would move my catering business into the back and we would have a little storefront for our chicken shack.
Chris is a wizard and most of the things he says will happen tend to come to reality. So as such, we found a location very quickly! It was all very serendipitous. The location was very charming and located in Pasadena, California. At the time, I was seven months pregnant which was not an ideal condition to be in when moving into a new restaurant space! Nevertheless, we persisted! In eighteen days our kitchen was open!! I had 30 days to get the staff ready to be without me for a little while, while I went on to have my baby. It was an absolutely insane and exhilarating time.
This is definitely one of those examples where you hear about successful entrepreneurship being rooted in naivete. Just two people (one of them pregnant) with a dream. Half the battle is just doing it! It has been nothing short of a wild roller coaster ride, but we are avid amusement park goers, so we are up for anything.
If you have ever known a chef, you know they work nights, weekends, holidays and long hours. When Chris and I first met, I was running my catering business and we had opposite schedules. The conditions of our relationship were not sustainable. I chose Chris to be my life partner because he is quick to solve problems and is a huge advocate for a sustainable work-life balance. He believed that I didn't have to work 7 days a week and that we deserved to create a better quality of life for ourselves and for our future family. Right he was!
We developed our Daddy's Chicken Shack brand to encompass these values. We believe in family values, hard work, and work-life balance which results in harmonious bliss. This is what our family stands for, so this is what our business stands for.